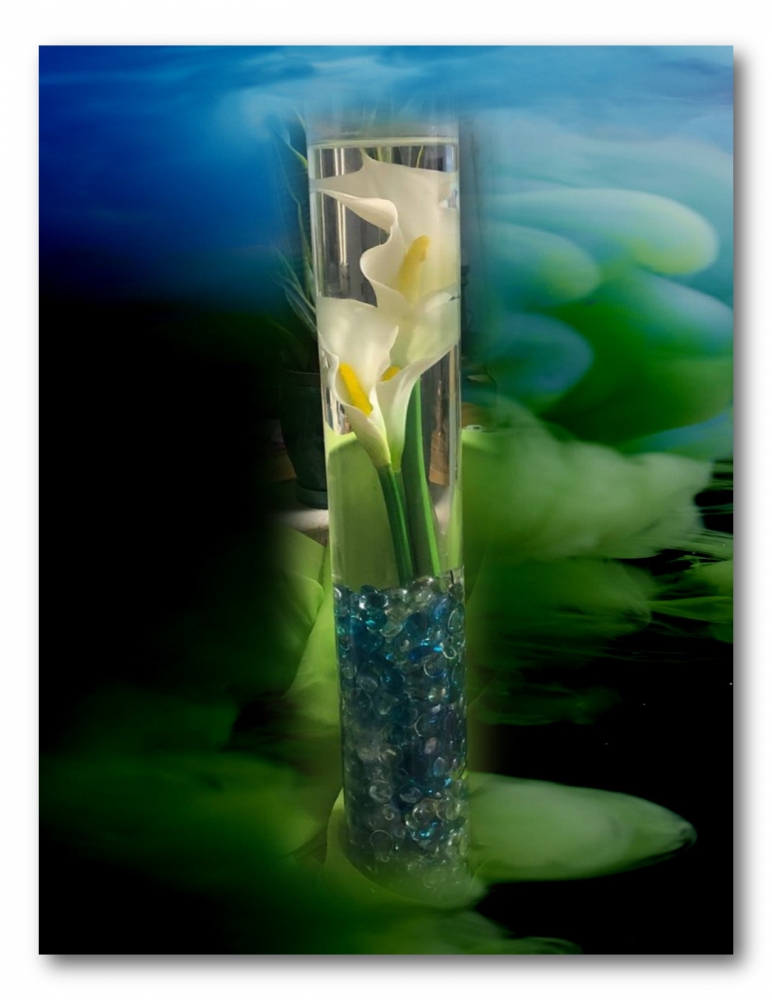 This is a pic of the centerpiece on each table at my daughter's wedding. I'm always so happy whenever I win the centerpiece at an event because they're so much prettier than anything I could ever create. At the end of the reception, the announcer said a guest at each table could take the centerpiece home. Since everyone at my table had gone, I was, of course, only too happy to grab it before someone else came over to reach for it.
The waiter poured off the water so there would be no messy accidents in the car. My husband handled it very carefully so as not to disturb the glass stones, and underwater lights. I didn't know the name of the flower. I only knew that it was tropical, and I'd always loved it.
After getting the vase in its special place, I carefully filled it with water completely covering the flower, exactly as it was on the table. I knew it wouldn't last long. Flowers never do. Each day I looked at it, sometimes making a special trip into the room at night just to admire it with the underwater lights twinkling through the glass stones.
After a few days, I noticed there seemed to be no change in the flower. I was excited that it was lasting so long. After about a week I began to suspect that it was an artificial flower. I put my fingers in the water and gently touched it. Both my husband and I examined it, looking closely through the glass and agreed it was not artificial.
After the second week, I thought, "No flower lives this long, especially underwater." I finally got the courage to pour the water off, hoping to do no damage – just in case the flower really was real. Yes! You guessed it. It was one of the most beautiful, authentic looking, artificial flowers I'd ever seen. I stood there laughing at myself for being fooled for so long.
The truth is, I suspected after the second or third day that the flower was artificial, but I wanted it to be real. I wanted it to stay as it was. I wanted to keep a piece of that wonderful day alive for as long as I could.
Think honestly with me for a moment. How many things in our lives do we deny the reality of because we just want to see it the way we want to see it? We want it to be the way we want it. It could be a situation, a person, a relationship, a plan, a dream. Have you ever chosen not to look closely at something for fear that it may not be what you hope it to be? Perhaps memories are attached; perhaps hopes for the future.
I was quite deliberate in using the word, "Have you chosen …?" There is a point at which we make choices consciously or unconsciously. After a certain point, unknowing, innocence, and naiveté becomes foolish, and willful ignorance becomes less than beneficial.
How did a story about a beautiful centerpiece turn into an analogy about unrealism? It doesn't take much imagination to see where this thought is going. Unreal things come into our lives all the time. Despite what we know, what our instincts tell us, internal voices, synchronicities, nudges from Spirit, we see what we want to see; and it is our choice what we do with what we know.
With the centerpiece, while it was still pretty, the underwater lights had gone out and the casings were showing signs of rust. The water was becoming very slightly cloudy. Eventually, if left unattended it would have turned messy and ugly.
Check the "centerpieces" in your world. Are they real or artificial?