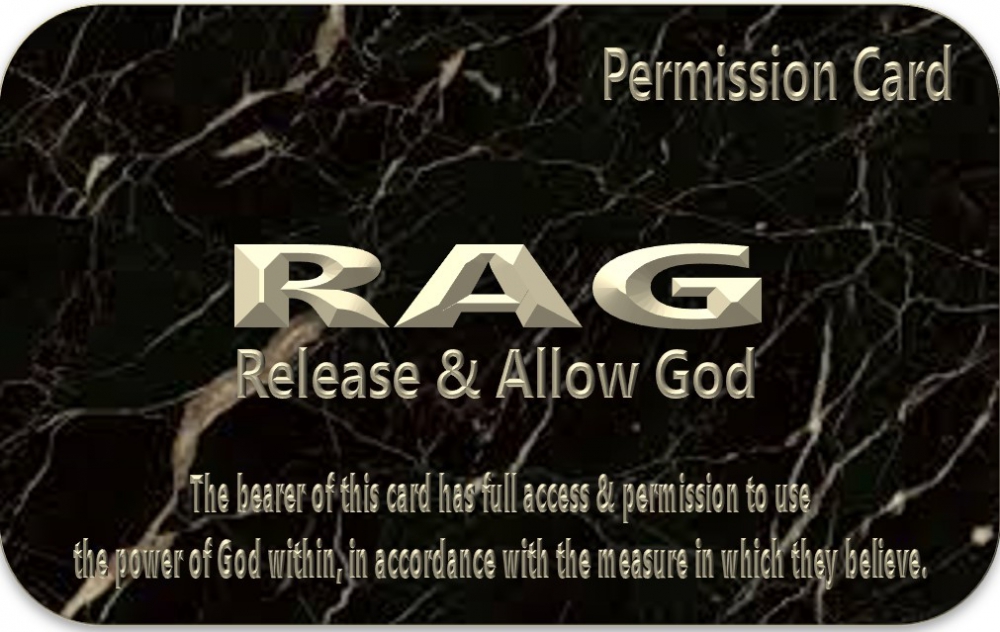 The fine print on the bottom of the RAG Permission Card reads:
The bearer of this card has full access & permission to use
the power of God within, in accordance with the measure in which they believe.
The vastness of this thought can in no way be articulated in a blog more than just to skim the surface. The Bible references God in us. That can be such an overpowering thought that many will deny it's reality. John 15 is clear that God is in us and we are in God, from whence came the song "Wrapped Up Tied Up in Jesus." Though the scriptures says we are the temple of the Holy Spirit, the habitation of God, that he abides (lives) in us, still some cannot mentally embrace or make the claim that God is in us. This is not to say that we are God. Certainly not. We are humans and humans possess or are inhabited by God in measure and in part. Consider this analogy. A glass of water dipped into the ocean will capture a part of the ocean but, of course, not the whole of it. To analyze the water, however, will prove without a doubt that the water in the glass, having the same properties, is the same water as from the ocean in which it was dipped.
Some are more comfortable believing that God is a big guy in the sky somewhere, or at the very most, close by, but certainly not within.
For God to be within does not diminish God in any way, nor does it deify the human. It simply is.
To accept that God is within changes things quite a bit. In fact, it changes your attitude about everything, thereby changing everything; the way you think, the way you exercise your faith, the way and the attitude with which you pray. It changes your total perspective on what you expect in your life. It changes what you expect from prayer.
We agree that God is omniscient, omnipresent, omnipotent, and omni-active. We know those words. But the reality of what they mean, the living concept of what they are, is more than a cursory understanding of their definition. Look closer.
Omniscient (all knowing). God is all knowledge. God doesn't need to know because God "is," the embodiment of all there is.
Omnipresent (everywhere present). God is eternal. God is more than everywhere present. God is at every moment in time, here, in the now, hence eternal because every moment in the future becomes the present. God just is.
Omnipotent (all powerful). God does not possess power. God is power. There's a difference.
Omni-active (active everywhere). God is. By God all things exist.
To be indwelled by God, even in small measure, of all that God is, changes hope to expectation. It causes one to pray like a believer instead of a begger. It means knowing that we possess within, everything we need and the good we desire. So, then, if we already have "everything relevant to life and godliness," (2 Peter 1:3) then it isn't about waiting (hoping) for something to happen, but allowing blessings and healing already within, to unfold from within. It's releasing and allowing the God-ness or God-essence (which is everything good) that which is within.
It then becomes clear that God's power, consistent in the measure to which we believe, is our power; available to us. We have the power to release and allow manifestation. The hinderance in all cases is unbelief and fear. If you don't believe you have something, you'll certainly never use it. BUT! if you believe you have it, you'll go after anything. Just Thinking!
""Pray like a believer instead of a begger. "" Thank you for that powerful quote.
Excellent! I love reading your blogs every Monday. They're always so insightful and empowering. Thanks for the weekly encouragement, Dr. Lawrence!
Absolutely POWERFUL!!!!!