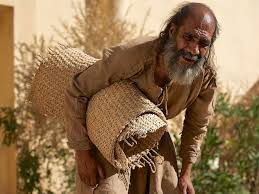 I've included the scripture for those unfamiliar with the story. If you know the story, skip down to the highlighted word.
John 5:1-8 King James Version (KJV)
1 After this there was a feast of the Jews; and Jesus went up to Jerusalem. 2 Now there is at Jerusalem by the sheep market a pool, which is called in the Hebrew tongue Bethesda, having five porches. 3 In these lay a great multitude of impotent folk, of blind, halt, withered, waiting for the moving of the water. 4 For an angel went down at a certain season into the pool, and troubled the water: whosoever then first after the troubling of the water stepped in was made whole of whatsoever disease he had. 5 And a certain man was there, which had an infirmity thirty and eight years. 6 When Jesus saw him lie, and knew that he had been now a long time in that case, he saith unto him, Wilt thou be made whole? 7 The impotent man answered him, Sir, I have no man, when the water is troubled, to put me into the pool: but while I am coming, another steppeth down before me. 8 Jesus saith unto him, Rise, take up thy bed, and walk.
As you ask questions of the text, gems will pour out from every verse. I'm jumping right in to what got my attention recently. My guess is that the man at the pool was about 50ish years old. No one would leave a boy under the age of 12 years old at the pool of Bethesda alone so let's presume the man was there since the age of 12. He was there 38 years so that brings him up to about the age of 50+.
Jesus approached the man and asked him if he wanted to be healed. At one time I wondered why Jesus would ask the man such a question. The Bible said Jesus knew the man had been there all those years. The man was there everyday so, of course, he would want to be healed. I've since backed off of that because I've found two things to be true. (1) Some people don't really want to be healed. Living healed is quite different than living with broken areas of your life. If you're healed, you have to do things for yourself that others are now doing for you. Once you're healed, you no longer have excuses for not doing ….. There's sympathy and allowances in brokenness. There's responsibility and accountablity in being healed. (2) Many people don't know what they want. We can talk all day on that one.
A question requires an answer and an answer requires thought, so, perhaps Jesus' used the question as a tool to get the guy focused on what he wanted. It was a "Yes" or "No" answer. There was no request for all of the information the man chose to share with Jesus, explaining why he was unable to get into the water for over the 38 years, describing what others did for themselves, but never saying anything about what his efforts had been for himself. Just thinking.
I wondered about this man's personality. Over the 38 years people had to know him. Surely he'd seen the same people coming through and passing by countless times. Why was he never able to strike a deal with a regular passerby or someone to help him get into the pool? He was lame. Why didn't he hook up with a blind person and say, "I've got eyes. You've got mobility. Let's position ourselves. I'll let you know when the water is moving and we'll both get in." Maybe that would've worked, or maybe not. I'm just thinking.
But here's what really arrested my attention. Jesus said, "Take up your bed and walk." Had he ever instructed anyone he'd healed to tidy up their spot? Did he want the man to leave no evidence behind of him having been there for so long? Perhaps leave no evidence of his past behind? Leave nothing to suggest that someone else should make the spot their own and just stay.
Why burden the man with picking up and carrying his mat. The poor guy hadn't walked in at least 38 years, if ever he'd walked at all. His ankles would be weak, muscles atrophied, and his legs shaky. The man was going to struggle just to get up and surely he'd need to get to a PT to get all the necessary physical therapeutic treatment to build strength and balance to walk properly. Why burden the man with carrying his mat. I noticed Jesus didn't say, pick it up and drop it off in the first dumpster you see, or pass it off to someone else. He just said, take up your bed and walk.
Then "it" hit me. The mat was what the man laid on in the story, but to you and me, that mat represents a host of personal burdensome possibilities.
In getting up and the effort to walk and move forward, that mat was a burden from the past. Try as we might, and as much as we wish, some mats you cannot leave behind. We take them up and walk with them.
Take up your felony and walk.
Take up your lifelong struggle (?) and walk.
Take up your disappointments and walk.
Take up our failures and walk.
Take up your abuses and walk.
Take up your regrets and walk.
Take up your memories and walk.
Take up your scars and walk.
Take up your dysfunctions and walk.
Take up your burdens and walk.
We can't so easily take up the past and cast it into the first dumpster we see. We learn to walk with the burden of our mats.
Finally, in that Jesus gave no option and only one directive, I narrowed down to the most significant application or message in this story. Despite whatever, it comes down to one thing. WALK. Walk away from the environment that has offered you nothing. Walk away from anything and everything that has not been helpful. Whatever it is that you've gotta take with you, just take it and WALK. You may be able to get rid of it later but for now, WALK.
Just Thinking!
That last paragraph said it all walk,walk, walk away from negative people and a negative environment. Heal yourself.
Excellent!