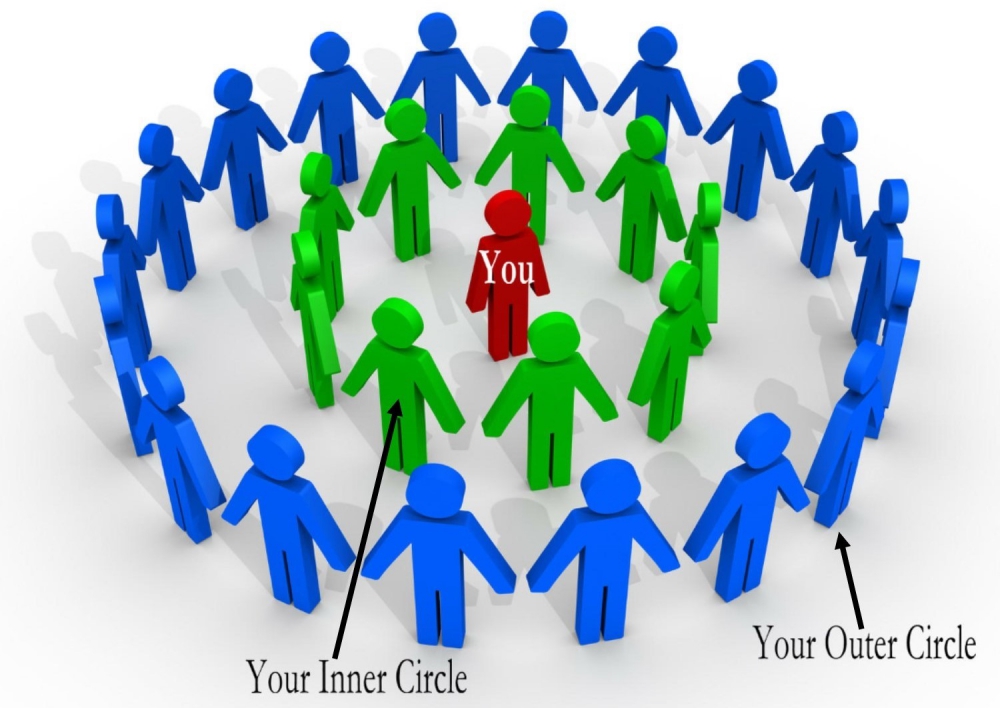 We're the combined average of those with whom we spend most of our time. - Jim Rohm, Personal Development Expert
Now, that's a scary thought, isn't it? Look around your world. Who's who around you? Is there a cost/criteria to enter your inner circle or do you have an open-door policy or revolving door?
The Jim Rohm quote is a wake-up call, something to very seriously consider if you're committed to moving to your next level. The people with whom you're spending your time may be nice, sweet people in many ways, but how do they reflect your image, your brand. Imagine yourself with them in a picture frame. Do you see the picture you envisioned? You may need to use some photo editing software on the picture of your inner circle. You may need to airbrush someone out or overlay someone in.
Blood relatives qualify as blood relatives. That's it. No choices there. Those relationships are fixed by birth. Blood relationship does not qualify for entry to your inner circle. We choose our friends and acquaintances. Whether family or outsider, we have the power and the responsibility to choose who's granted entry to our inner circle. Whether an airline ticket, concert ticket, gym membership, club membership, fraternity, or sorority, there's criterium, cost, terms and conditions, and standards of conduct that must be met for membership or participation. Doesn't matter how nice you are, and in many cases how much money you have, the bar is set. Why, then, do we treat our personal and professional lives with less dignity and protection?
Your life is your space. Take control of your space.
When you allow anyone and everyone into your inner circle space, they bring anything and everything with them and it rubs off; negative energy, bad attitudes, mediocrity, empty, shallow conversations that don't build and encourage.
Your inner circle needs to be comprised of people who love and respect you unconditionally; people with vision and ambition; people who add value to your life. There must be a reciprocal commitment to see and help the other be their best self. No jealousy or envy (kid stuff).
Jesus had thousands of followers and "wanna be(s)" available to him, but he chose 12 to be his companions in ministry. Let's consider them to be his outer circle. It's intriguing enough to think of what qualifications he used to choose the 12, but what's more interesting is that he had an even closer circle, an inner circle, Peter, James and John. Why was an inner circle necessary and how did these three qualify? That's a study for another day, but a seed thought for you to think about.
Two question for today:
Who's in your inner circle?
What qualifies one for that coveted position?
And, Oh! BTW! Tickets to your inner circle aren't lifetime passes. They can be renewed or rescinded.