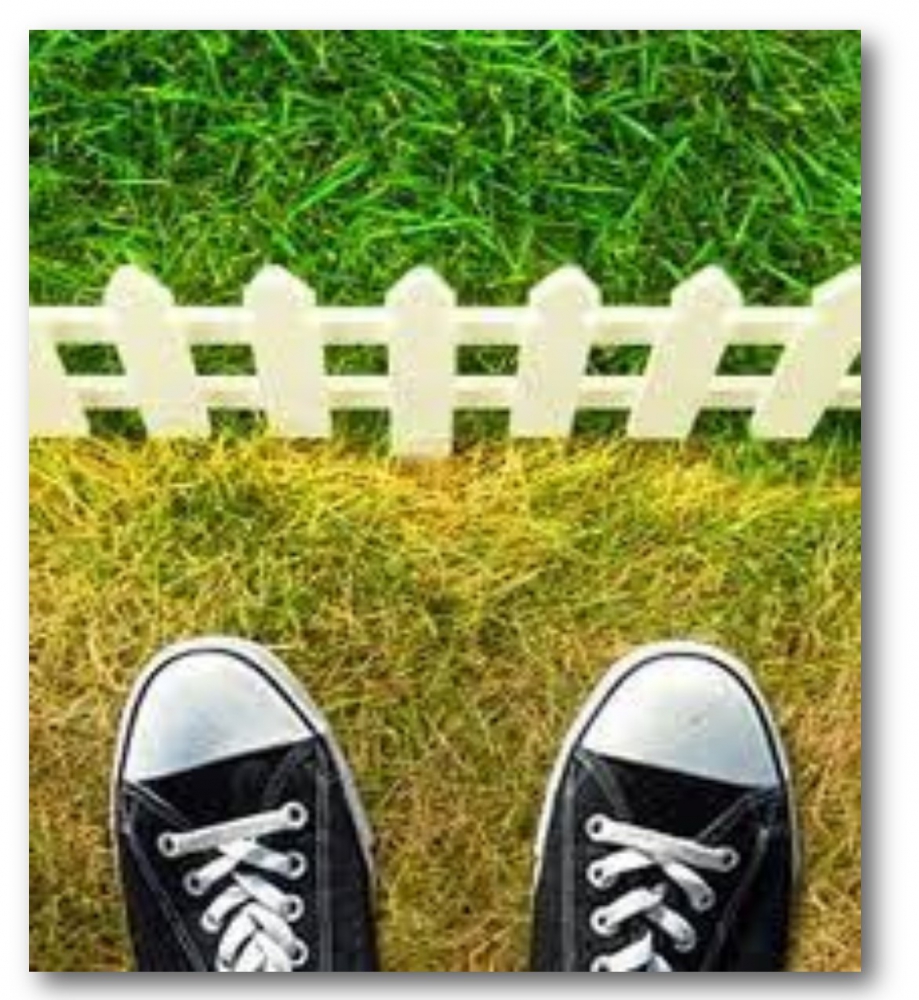 The grass looks greener on the other side. Hmmm, hold on a minute. It really may be greener. Let's think about that.
You've heard that old saying, "The grass looks greener on the other side," implying that it only looks greener but it's no better than the grass in your field. True, but not always true.
Let's suppose for a moment that the grass really is greener on the other side. Better yet, let's be realistic. There are greener pastures. Surely you would want to be where the landscape looks better. Given a choice, who wouldn't choose greener pastures?
– There are better jobs.
– There are better neighborhoods.
– There are better relationships.
– There are better automobiles.
Don't cliché yourself into complacency. There is better, but only you can decide what "better" is for you.
In the Bible, Abraham and Lot needed to part company because their growing herds were too much for the land to sustain. Abraham gave Lot the first choice of which direction he wanted to go. "So Lot looked and saw that the valley of the Jordan was well watered everywhere" Genesis 13:10 (AMP). Notice, Lot looked and saw. He made his choice based on what his eyes saw. Lots of choices are made that way. There's a bit more to making a good choice than simply based on what you see. Let's consider just one dynamic. Maintenance.
Staying with the metaphor of "grass" since that's what the cliché uses; you can make the personal application. When you're looking at the greener grass, know this (and you can't get around it); nothing is free, and nothing is maintenance free. When you make a purchase, the guarantee only says, "The grass is greener." The flashy extended warranty says, "We'll replace the greener grass if it dies." YOU are responsible for proper maintenance; water, fertilize and mow the lawn. It doesn't stay healthier and greener by itself. The point is, whatever you want, seeing it, and getting it is only the beginning. Can you handle the maintenance necessary the keep the greener grass greener?
"Just because you can buy it doesn't mean you can afford to keep it." Carl D. Lawrence
Clothes have laundry tags, equipment has maintenance manuals. Everything comes with care instructions. Read the maintenance tag before you buy. Some tags are invisible, but don't be fooled, maintenance is still required. For example:
1. The better job: There are better jobs than the one you have, but the invisible maintenance tag will tell you if you can keep it after you get it. What work ethic do you bring? An hourly wage mentality won't work in a professional salaried position. Moving up often means: come early/stay late; work until the job is done. If you have a 9-5 mentality, then the grass is greener right where you are.
2. The better stuff (ex. auto): Nice cars, luxury cars require keeping regular maintenance appointments at the dealer's service center, and pricy replacement parts. If you have a hoopdy/jalopy mentality; if you take your car to Petey's curbside fix-it-all, if you never wash and vac the auto you have, then the grass is greener on the other side, but it's best you stay on your side of the fence.
3. Fred or Mary have better relationships, a better social lives, more opportunities: Relationships need constant attention; need to be cultivated, nurtured, watered, and fertilized. Any relationship in any catagory (professional, friendship, romantic) does not simply exist in a greener state, nor is it self sustaining. It's being taken care of.
When you stand in your grass and observe the greener grass (and there is greener grass everywhere), just remember, you're looking at the product of work not visible, the cost of which is hidden. Unless you're willing to invest the time, energy, commitment, and everything else necessary to keep the greener grass greener, stay with the shade of green you've got.