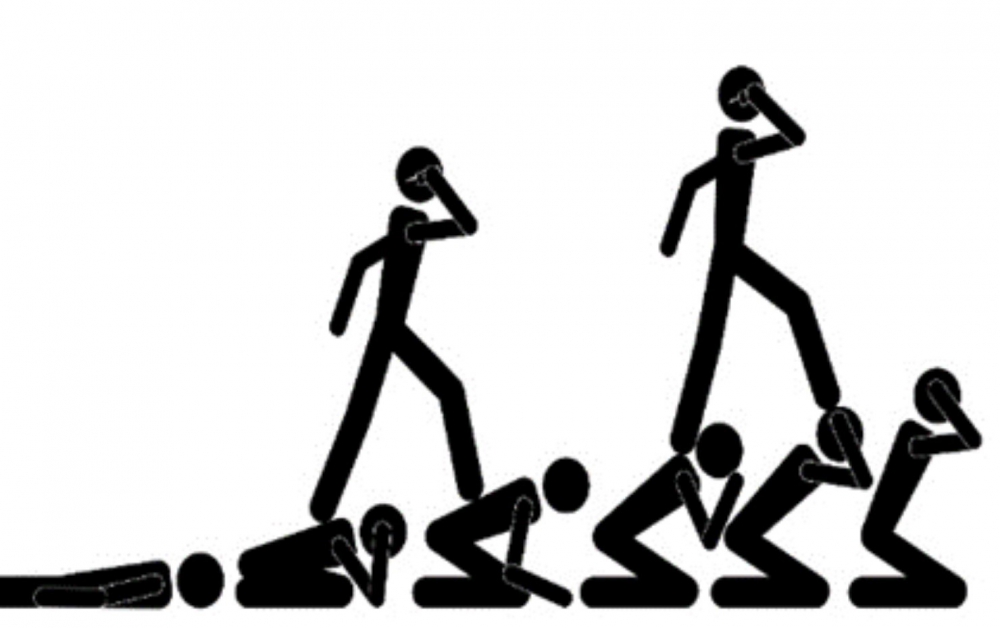 WHAT DO YOU SEE?

There are two immediately obvious possible interpretations of this pic. You decide.
1. Two stepping on others on their way to their next level. Notice their cell phones. That might imply a disengagement with others and their surroundings. One has his foot on the head of one bowed.
2. Others bowing themselves as leverage to help the two get to their next level – or – perhaps they're just the kind of people that allow themselves to be stepped on.
How you get to your next level is more important than your arrival, accomplishments or perks when you get there. Imagine getting to that ultimate place. When you arrive, there's a questionaire you must complete.
Were you fair in all your dealings?
Did you give honor where honor was due?
Did you help others get to their next level while you were on your way to yours?
Who helped you?
Whose name can you mention who could benefit from your acknowledgment of their skills?
Did you genuinely encourage others along the way?
Did you help anyone with their tasks even though it had no direct benefit to your work?
It's' more about the climb then being there; more about the journey to your destiny than your destiny itself. The end in every scenario in life has already been divinely made possible. The Universe isn't making things up as you go along.
Who you are? Not your name or your title. It's about character. Who you are dictates how you climb the stairs. how you treat people along the way, how you make the journey. Who you are at each level is a result of how you climbed the stairs. How do you treat people on your way to your next level? Who you are when you get there is a result of how the journey changed you. If you haven't changed in your thinking over the years, that's very sad. If there's no change, no new perspectives, ideas, …. that could well mean you learned nothing along the way, because when you learn, you change. The more of life you see, the broader your world view becomes.
When you're moving to your next level, that new plateau, that new pinnacle in your career, it's about who you are when you get there and that's determined by each step you take, each lesson learned along the way. Take your time. Don't compare your progress with others you may notice. Everyone's journey is different. Just know that if you embrace the unity and power of Spirit, that knows everything, the right thing will happen, in the right way, and at the right time.