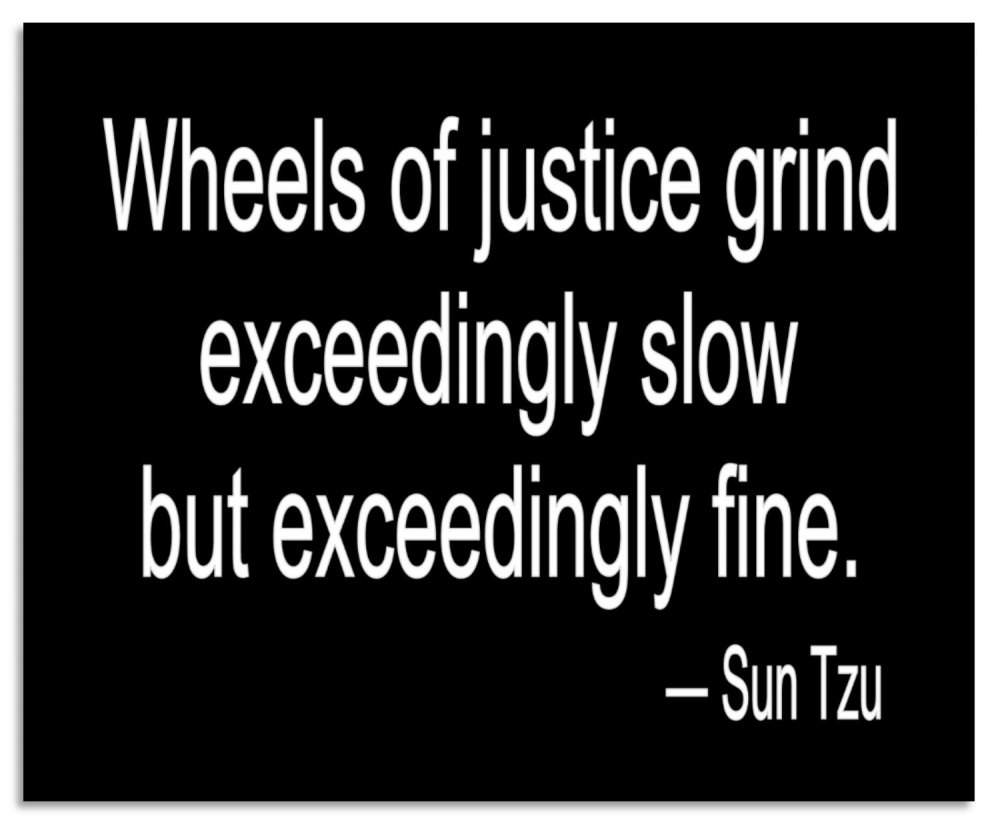 The wheels of God's judgement may grind slow by they grind exceedingly fine. – A.W. Tozer
Do not be deceived, God is not mocked; for whatever a man sows, this he shall also reap. - Galatians 6:7
What goes around comes around. – Unknown
Why seek for revenge because you know karma will get the bastards anyway. – Ajahn Brahm (Buddist Society)
Quoted by many through the corridors of time, including ourselves, yet in times of offense, from the smallest to the most horrific, there is a crescendo of voices in demand for swift justice, as though, if not swift it is not justice. The whole matter of justice is not easy, and emotionally inconclusive, yet justice seems to sit silent and still amid the righteous indignation, insult, pain, livid, and incensed demands for swift and sure justice.
What is justice? Do we know what justice is? (Don't answer that question today. Wait.)
Is it fairness?
Is it revenge?
Is it Payday?
Is it getting back what you dish out?
Is it an eye for an eye, tooth for a tooth?
Balanced scale? Who sets the scale?
If it isn't timely (immediate), is it injustice?
Who sets the clock?
If we don't see it, is it still justice?
Is the debt for an injustice ever really paid in full?
These are questions only justice can answer.
New Testament Christians, on a good day, will say, all sin is sin, no big sins or little sins; sin is against God; transgressing the law of God. That sounds good in the sanctuary, but after the benediction, get home, and turn on the news. Lay auto theft juxtaposed to school shootings, or redlining (a form of racial discrimination) next to the Holocost, slavery, and terrorism, or racial bias when it comes to the same crimes. What sayest we then about sin? Is all sin still equal to God? Some are thrown under the jail while others in high places and lofty positions guilty of equally heinous crimes get soft sentences or none at all. Look again at the above questions.
Old Testament leaning Christians will say, "Justice must be swift and severe." (Pat Robertson, 1988 Republican Primary Candidate for President of the United States). An eye for an eye, …, stone the transgressors on the spot, cut off the thief's hand.
We know the justice system in the earth realm is really the Injustice system, or the unjustice system, or the no justice system. Can one expect an unjust system to rule justly? Better luck with a roll of the dice.
People do bad shiggidy; no denying that; and some will have to serve at least a few hours in hell (if you believe there is such a place). There is a payday; cause and effect. Cause and Effect is one of the fundamental laws of the Universe. That is not to say, be silent and don't fight for justice. It is to say, however, to know the gavel of authentic, nonperverted justice comes from a different place; and that gavel descends slowly yet with laser precision.
One final thought. To assume the seat of justice would seem easy. But if justice is to behave fairly then it's veil hovers over all. That means it must rule the same whether you (or someone you love dearly) are in the seat to pass judgement or facing the seat to receive judgement. The change of position changes the outcry for swift justice to a cry for mercy. Let us pause for a moment of silence.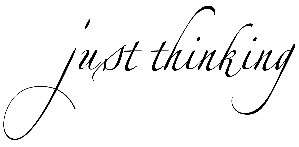 Excellent as always!