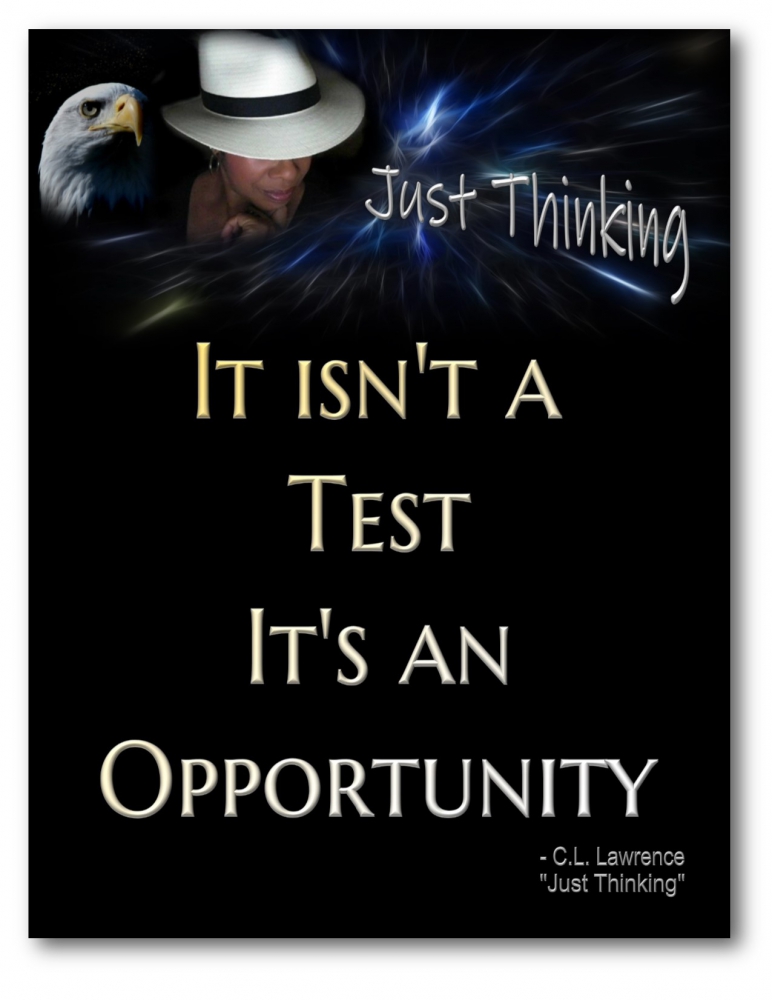 When you're going through a tough time, maybe something isn't going quite right or the way you planned, the easy response that comes at you from well-meaning others is that "It's a test." You may have said that to yourself a few times.
That broad brush assumption, "It's a test," never quite made sense to me. Speaking as a perpetual student, testing is part of the landscape. You know what tests are like, unimaginative. They're a part of the deal, you know they're coming, when, and you learn how to take them. In most cases, you give back what you were given. What you learn is up to you. You know what you know before the test, so the resulting grade "A" thru "F," Pass or Fail, is inconsequential and of no surprise to you at all.
You may be in physical pain, emotional torment, deep disappointment, discouragement, financial ruin, … Someone comes along and says, "It's only a test." Really?!?!?! Does God need to test you to see what you'll do? God is omnipotent. God already knows.
Some will say the test is for you to see what you'll do. Really?!?!?! Stop it. You know You, even when you pretend you don't. If you're older than three years old (maybe younger), you already know what you want to do just as soon as you get a chance. We learn at an early age to plan and execute; and we only get more proficient at it as we get older. The only difference between the plan and the execution of a child and an adult is a modicum of wisdom and maturity that (hopefully) encourage us to make better choices. So, what's the value of a test. The results would yield no surprises. It really boils down to, "Just do the right thing."
"Test" innately carries negative tension. "Test" conjures up fear; Reward/Punishment; Success Pass/Fail; Red line/Gold star. Take the test. Get the grade. Over. Done. Re-test maybe but can't count on it. Was the test fair? Then there's ranking. Where does my score put me on the ranking; top, middle, bottom, too low to rank? In what percentile do I fall? What does the result of the test say about me and how am I perceived? Judgement is hanging over your head. That's just too much stress; and stress isn't helpful in any circumstance.
During the toughest of times; periods of greatest frustration, extreme temptation; why call it a test? Seems cruel, not to mention that we put ourselves in certain predicaments and then lay the blame on God by calling it a test. Both you and God know how you've handled yourself in the past. Both you and God know where you are mentally and spiritually and how you would handle a challenge now. There's nothing to test; nothing to prove. The God I know wouldn't stress us out that way – "testing." Come on!
This thought isn't suggesting that you kick up your heels and dance the jig through a horrible situation. It's suggesting a different view of an unpleasant circumstance and a more gracious and spacious view of God's role and intent. God isn't standing by testing you with some horrible illness, bad situation, temptation, with a grading system to determine your worthiness for the next move. That ball is in your court alone.
Let's take a look at it from a positive perspective, shall we?
It Isn't A Test. It's An Opportunity.
A test is given. An Opportunity presents itself.
A test, you survive. An Opportunity offers help along the way.
Opportunity opens the door to possibilities and promise. Opportunity is welcoming. Opportunity is a chance, a fork in the road, an alternative way. Opportunity allows for and invites a different choice for a different result. Opportunity suggests favorability. Opportunity invites you to bring your best self into an experience that has no veiled threat of judgement or punishment.
Look at your circumstance, whatever it may be, as your opportunity, your chance to create an intentional result as God calls into alignment all the cooperative components for your good purpose. Opportunity invites you to conceive of a different possibility, a more illustrious expectation and a more positive and confident approach.
On the journey, life happens. The "life happens" experience isn't unique to you or me. Life happens to everyone. The Bible says, there is no temptation overtaken you but such as is common in the human experience. What we think of as facing a test is really our internal struggle with ourselves, a wrestling with our attitude as it relates to whatever we're facing. So, then, the question isn't why this is happening to me, or why I'm being tested. The question is:
"In this "life happening" experience,
this opportunity that is uniquely mine,
how is God seeking to express God's self through me?