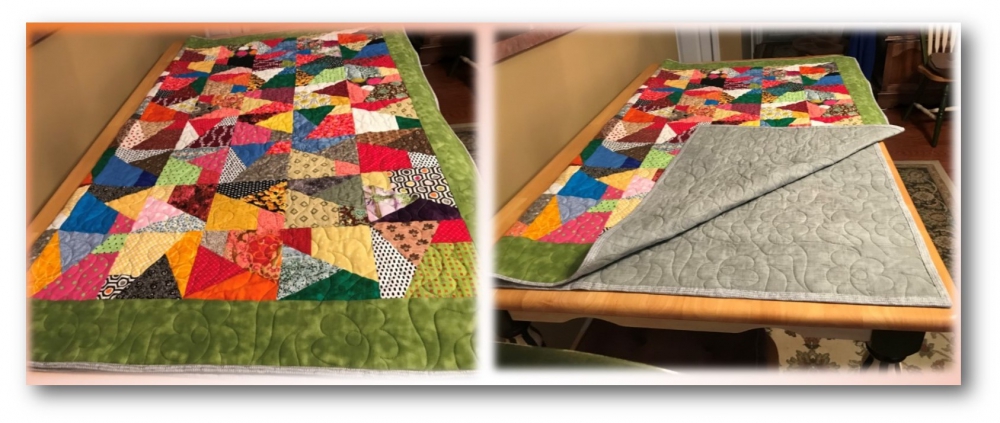 This thought is a little bit different, perhaps so in the way the experience spoke to me.
I know a lady who quilts. Let's just call her Grace. Grace loves vibrant colors, floral designs, and lively patterns. She has many crafting skills, but quilting stands out far above the rest. As Grace would talk about quilting, having no crafting skills myself at all, and no perception of what she was talking about, I could only politely listen, rather awed at her passion and commitment to the art of quilting. She showed some of the instruments she uses as guides for cutting patterns. To me, they looked like clear plastic rulers in different sizes and shapes. She has several hundred fabric scraps, all meticulously stored in customized containers.
I didn't understand it. No disrespect intended but I've seen perfectly nice quilts in stores, especially in Amish country. I thought, "This is too much work. If I ever want a quilt, I'd just go buy one."
Grace needed something to finish her quilt, so I went with her to a local fabric store. As she pulled the much larger than expected quilt from her bag and spread it out on a huge table, she asked, "How do you like it? What do you think?" Let me preface this by saying, there are no words to adequately describe the feeling of the moment or what I was seeing. (The pic does absolutely no justice to the quilt.)
I just stared at it. I heard her speaking to me, but I couldn't answer. Finally, I said, "Give me a minute. I'm overwhelmed." I was looking at the quilt, but it was surreal.
A zillion almost luminescent colors in varied patterns, scraps of random shapes and sizes, seamlessly sown together into a predetermined measurement. It looked finished to me. I couldn't imagine anything else that could possibly be necessary. Grace began telling me all that yet needed to be done before it could be called finished. A big machine would sew a pre-programmed pattern, then more fabric for borders and hand stitching; hours of work still before it could be called finished.
I thought about the whole of humanity, people different in every imaginable way; colors, sizes, and shapes. Was I seeing the quilt as just another parallel to the familiar analogy of tapestry and humanity? No, it felt like more. I couldn't get the image of the quilt out of my mine; nor the memory of the feeling when I saw it laid out on the table in the fabric shop.
One morning, during meditation, this thought came to me.
The quilt is a picture of you; you and every individual. Not as the collective humanity, but individually. At our best, each of us is vibrant with colors and shades and shapes, reflected in our personalities, aura, thoughts, dispositions, moods, ... Just as Grace could never duplicate the quilt, we are each unique in our design.
Then there was Grace, as amazing as the quilt itself. I remembered when she showed me scraps. They looked like exactly that, scraps. Pieces of random shaped fabric that I would have easily discarded. But Grace could see the beauty in the scraps; the vision of the finished product in her mind before she even started. She pulled together everything needed to make her vision real. (Alignment) Every piece of fabric, thread, batting, needles, machines, was important. (Component parts) The back of the quilt and the borders had to be in compliment and harmony for the beauty and the perfect finish.
There was the idea. There was the quilt. There was Grace. There was a divine synergy in her passion and patience. I thought about God.