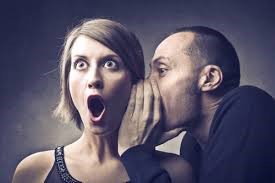 Grace Note: Love covers
Above all, keep fervent in your love for one another, because love covers a multitude of sins. I Peter 4:8 (NASB)
About a surprise party, maybe? About a recipe, maybe? But what about a shameful secret; a juicy little tidbit. Hmmm, that may be a different story. Some people enjoy knowing secrets. It's fodder for a gossipy spirit. For some, it makes them feel important to know something another person doesn't know, to be the one with the information, having the power to reveal it at will.
This thought isn't about the content of any secret, but about keeping it. Keeping a secret is a big thing. A secret can be a heavy weight and huge is the responsibility of carrying it. Knowing a secret in some way makes you a part of it and that isn't always the most desirable place to be. Maybe in trust it was shared or perhaps you stumbled upon it. Knowing someone's secret is more than just having "the scoop." It's having someone in the palm of your hand, vulnerable to the power of your tongue. "Death and life are in the power of the tongue, (Proverbs 18:21a). Power is the operative word. The damaging potential of a dark secret is rarely confined to the principles, thus the power of knowing the secret reaches further than you imagine. How do you handle that kind of power?
How you handle a secret reveals more about you than the secret holds about its subject(s). Do you tell it, exposing Dick or Jane to be less than who they profess? Do you open the closed door of Jim's past causing him to relive the shame? Do you hold it for "use" at some opportune time? What do you gain by telling the secret?
Keeping a secret is more than any agreement you may have with someone, it's a divine trust. The whole trinity is involved in it. The Holy Spirit is on assignment and working in the matter, but in the meantime can you be trusted to walk with that person through the valley of the shadow of shame until they get to the other side. Is your Godlike love broad enough to cover their sin? Christ died for it. Can you be trusted to cover it?