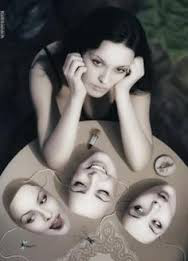 In both accounts of the gospel, Matthew and Mark, Jesus asks his disciples "Who do people say I am? Have you ever asked that question of yourself? Have you asked that question to anyone else about yourself? Departing from the traditional interpretation of this scripture and using Jesus' question to illustrate a thought extracted as a sub context, Jesus wasn't asking about the "buzz." He knew the people were talking about him, what they'd witnessed, what they'd heard and experienced. You can imagine with all he'd done; he would wonder how that translated in the people's minds. Were they "getting it?" He wasn't asking about what they thought of his deeds. He asked is disciples specifically not "what," but "who" the people were saying he was. Then he asked an even more poignant question, "Who do YOU say that I am?"
When Jesus was with the multitudes in the villages and on the outskirts of the cities he was healing and teaching. That was the perception of him some people held; healer, teacher. He was with his disciples day and night. They knew him up close and personal. He was asking if there was harmony between the man the people saw and the man the disciples knew; between his public persona and the man he was in his inner circle. Perhaps he was more concerned about who the disciples thought he was. Nevertheless, his question poses a sub context: Is everyone seeing the same thing? It takes a bit of courage to go there. Can people trust who/what they see? Authenticity is a matter of integrity. Dare to think about it and ask yourself some questions. Who am I? Am I projecting my authentic self or a copy of someone else? Am I coming across the way I hope?
To be your authentic self you must be well acquainted with your-self, and accept yourself as a product of God's handiwork; perfections and perfect imperfections. A person dissatisfied with their self will try to find someone else to be.
Consider spiritual gifts within the framework of this thought. Think of them in terms of being a part of a larger whole, the big picture of God's human tapestry. Positioning yourself in that framework will open your eyes as to how and where you fit in. Think of yourself in practical terms; your personality, habits, tendencies, attitudes, etc. What excites you and motivates you? What makes your heart sing? You are who you are. God created you so you're in his plan. He can use you if you are willing to be your authentic self.