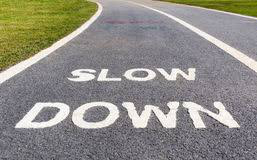 A husband was speeding only to jam the breaks at every red light. The wife, chuckling, repeats, "Hurry up and stop." They both laughed, and the husband slowed down.
The planners designed the timing of the traffic signals such that maintaining a certain speed on this large, three lane, one way street, would allow drivers to go from the west side of the city to center city stopping only once or twice. It was designed to be a smooth, steady ride. Speeding made for a rough, agitating, and frustrating experience.
We live in a hurry up time in human history, under the tyranny of the urgent. Gotta have it now. Gotta do it now. No time to think. Make the decision now or lose the deal. Get it before someone else gets it. Do it before someone else does it.
Wherever you are on your life's journey, slow down. Don't stop, but slow down. Notice the sights and sounds, good and bad, and glimpses in the moment. Something you see, hear, or smell, chatter, music or silence may speak to you if you're listening. There are landmarks whose voices you'll hear many years down the road; places where wisdom makes her deposit. Don't miss the value in the journey by speeding.