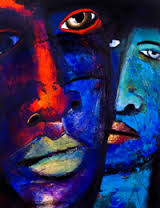 In the early years of my call to ministry, my preaching engagements were few and far between. In fact, the only time I got a call was when the 1st choice couldn't make it, got sick, or the church waited too long to book the preacher they really wanted. I'd get calls on a Saturday asking if I could preach on Sunday. Not good for the self-esteem of a young preacher; nor any preacher for that matter. Was there a "backup list" out there somewhere with my name on it?
The sucker punch to my ego came when someone called asking for the telephone number of the preacher they wanted. I wish I could say I was so highly spiritual, rooted and grounded in confidence, and too blessed to be stressed that I just said Praise the Lord inside, but I didn't. All I had was a call on my life, dust on my robe from those running past me, and no mentor to bounce things off. To make matters even more challenging, in the Kingdom realm, the normal human feeling of a bruised ego isn't exactly something you can share with anyone. You just gotta suck it up.
While I certainly had shortcomings, jealousy, envy, and bitterness were never my personal vices. I just needed to find a way to understand how play what felt like second place in the game. I decided to study and be prepared for the inevitable "just in case;" and there was always a "just in case." Then one day, there was an Ah! Ha! moment that changed my perspective forever. A voice on the inside said, "You may not be anyone's first choice, but you were God's first choice. When you were the second call, in every instance, God switched things around, put you in first place and placed you in the moment. Everyone talks about what humility looks like. This, beloved, the moment you realize God is orchestrating the steps of your every experience, is what humility feels like.
Life Lesson: If you measure your value and self-worth based on the choices and actions of others, you'll always feel less than. But, if you step back and watch how God orchestrates your movement and the situations around you, you'll begin to see your value. If you're (or feel you're) on the sideline, instead of complaining and nurturing an attitude of defeat, perfect your gift, watch the game, study the plays, so that when you're called to play your position, you can do it with excellence. Excellence builds confidence.
This is where confidence and humility walk together. Humbled to be here; confident you're supposed to be.