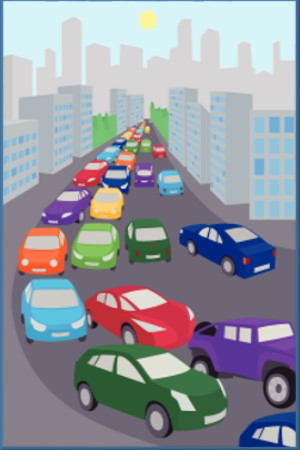 There're cars on the roadways that change lanes repeatedly, recklessly moving fast, darting in front of cars like they're going to put out a fire. They're annoying and dangerous. That's how people are who don't know who they are; don't know what they're called to do; like leaves in the wind, all over the place; trying to do what someone else is doing, following the latest trend, jumping on the latest good idea, the flavor of the month. I call them lane jumpers.
Some lane jumpers are unaware of it, but others on the road of life see it because lane jumpers get in the way, cause stress and unnecessary mishaps occur. A lane jumper has limited skills in the various lanes they cross into, yet eager to instruct; like the chef trying to tell the plumber how to fix the pipe. Everyone has a lane, even a highway with their name on it. Some don't stay in their lane because they either don't like the speed or they don't like where they think their lane is going. Who knows?
Are you constantly struggling and can't seem to get where you're going? Maybe you're out of your lane; in a place you shouldn't be. Beware! An ego gone wild can cause you to shift lanes repeatedly and be in the wrong lane for miles.
You move in the direction of your focus. You see something you want to be, that can be a good thing if admiration remains admiration and doesn't morph into a pursuit to claim something that does not have your name on it. Often wrong pursuits are chased in ignorance. To pursue a destiny because you desire the recognition and favor that comes with it is like getting excited sifting fool's gold. It looks like the real thing, but it has no value. Think about it. Life will sift you like wheat when you're out of your lane. Here's what it looks like:
You're in leadership but without the skills
Your visions are unrealistic and incoherent
You sing solos when you're perfect for backup
You're a gifted support person but you usurp authority
That isn't you, I'm sure; bit if it is, get your head on straight. Get in your lane and stay there. Your blessings are on the path where God put you. Give your ego a check-up so that it functions properly and keeps you in your lane. Your lane will lead you to your destiny zone. Your destiny zone is an elusive place if your pursuits are misdirected and your motives incorrect. In other words, you're fashioned, fitted, perfect for your purpose, and called for one journey, but if you're pursuing another for reasons not grounded in God's purpose, you're out of your lane and you'll always be lost. Rather than changing lanes, stay focused pursuing your purpose, and doing what you've been called to do. You'll find peace in your purpose. Stay in your lane.
I just discovered this blog but it is what my soul was longing for!! It reminds me of Dr. Renita Weems blog she used to have for ""Thinking Women of Faith"". What a blessing!!