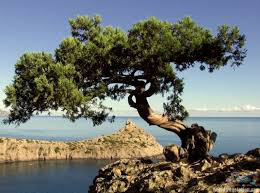 I woke up one morning feeling like a complete failure at life. While running down a list of proof statements and details supporting my claim, out of nowhere the prophet, Elijah, came to mind. After God used him in a Holy Ghost Oscar winning performance in a dramatic scene that trumps anything Hollywood could ever produce, even with all its cyber technology; in a cinematic display of God's power over Baal on Mt. Carmel, and the later slaying of over 800 prophets of Baal, … Elijah sat under a Juniper tree depressed, telling God he wanted to die. How can you not just feel sorry for the guy?
Later we find Elijah in a cave miles away, still depressed. God's response to the poor man's feelings has always intrigued me. Essentially God said if you want to die, it's okay. I have 7,000 prophets who haven't bowed their knee to Baal, so if you're giving up, that's ok. The work will go on. I don't care how compassionately God may have spoken those words, that was hardball, a freeze frame - reality check moment.
The recall of that story was a wake up call. If I were the failure I was telling myself I was, then God could just take me out of his equation. Why not? He has countless others more talented and gifted than me, so kingdom work would still go on.
I didn't want to hear God speak to me like he spoke to Elijah. I realized none of my work in ministry is about me. The simple logic in the moment was, if I had no value, then there was no need for me. Oh, no, no, no! I wasn't going down that well-worn street. I'm not ready to go yet. I got a grip on myself, went into my office, singing on the way Paul Morton's song. "Lord, Whatever You're Doing in this Season," please don't do it without me;" and got busy working.
Elijah's story didn't end under the Juniper tree or in the cave later. He was on assignment. There will be days when we feel tired, drained and depressed, feel like quitting and we'll take a seat under the Juniper tree. In Elijah's story there's no mention of dead bodies under the Juniper tree where he asked to die. The Juniper tree isn't the place of death but a place of rest and rejuvenation. Elijah fell asleep. An angel appeared with food, reminded him the job ahead was a big one. In other words, Elijah, it ain't over yet.
We're on assignment from God. In our zeal we can overwork and tire ourselves out. In that state, depression easily sets in and we don't think clearly. The notion of quitting seems to make sense.
If you find yourself there, take a seat under the Juniper tree. Be deliberate about proper rest and nourishment. Then get back on your assignment.