Two "old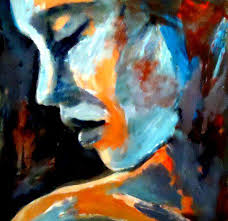 bitties," shopping, trying new foods, sitting on the porch drinking iced tea, giggling at the mischief we got away with (or thought we did), finally telling those "one day I'll tell you" secrets we promised not to die with. Since childhood, married or not, that was the plan. No matter what life threw at us, we had our plan of being old bitties together. Then suddenly, Fondra died. It wasn't supposed to happen that way. Death wasn't in the plan; never in the conversation.
She loved and cared for me like a sister. Confidence was knowing there was someone proud of me no matter what; insisting the low road was not for me; encouraging me higher in my call. I felt that ultimate "OK" when she gave her approval or that childish shame when I heard disapproval in the way she could say my name, never raising her voice, or speaking long narratives. I'd never known life without her nor a day unaware that Fondra was there.
Audible chatter of life around me, doesn't matter. The "To Do," can stay undone. Test to take, don't care. Time, in freeze frame. Breathing, but feeling lifeless. Open eyes, see only darkness. Then, through the clamor of silence, through the cracks of brokenness, a voice said, I'm here. I'll never leave you. That's what resurrection feels like.
Lazarus died in spite of the hope and expectation that Jesus would get there in time and intervene, and death wouldn't happen, but it did. I can imagine Lazarus, dressed in grave clothes, acquiesced to the reality of his death. Then Jesus called his name. How Lazarus must have wondered how life would be after knowing surrender to death; afraid to live again because death might come again. What choice did he have but to live because Jesus called him from death to live again? I think a different Lazarus came out from the grave. A different Lazarus was unwrapped from the grave clothes. Perhaps a knowing the difference between hope and expectation. Perhaps with a greater sensitivity of purpose. Perhaps with a greater dependence on the voice that called his name.
Scripture: It is the Lord who goes before you. He will be with you, he will not leave you or forsake you. Do not fear or be dismayed. - Deuteronomy 31:8 (ESV)