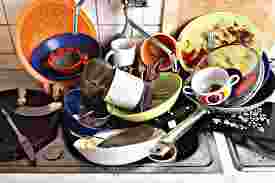 Have you ever gone to bed without washing the dishes? Maybe you ate while watching TV and fell asleep. Maybe it was a bigger job than usual and being tired you decided you'd just get to it in the morning. Then, morning comes, and you walk into the kitchen and see the mess. There's that nanosecond when you just hate what you see. After you get over the feeling, you get started on the cleanup. So, what's the big deal. The kitchen clean up cops aren't coming with a warrant for your arrest.
I use this example to illustrate a life thought. Let's take a closer look at the dishes. The whole visual is unpleasant. The food is dried on the plates and utensils. The pots and pans are yucky. The glasses have that ugly residue. The whole scene is going to take more time and effort to clean up than it would have if you'd done it the night before. What would have worked with dishwashing liquid and a sponge, if you hand wash, or a quick rinse and popped them into the dishwasher, now takes stronger detergent and a scrubber sponge.
That's exactly like mistakes and poor judgement in our lives - and we all have them from time to time. Clean up the mess as soon as possible. Don't let it go too long. The longer it sits, the harder it will be to clean it up. The bigger the mess looks, the more inclined we are to try to pass over it and not clean it up. Like last night's dirty dishes that don't go away and don't wash themselves; neither will the messiness in your world. You must do it. Straight talk would sound like this, "You made the mess, you clean it up." As harsh as that sounds, it's the truth. No one can do it for you. The truth is, you wouldn't want anyone to clean up the mess in your life any more than you'd want someone to clean up your dirty dishes. If for no other reason than that you wouldn't want anyone to see the mess you made or know your bad habit.
Another point to consider is, you have to take time away from what you have planned for the new day and clean up from yesterday. You can't get started with the new until you clean up the old. Don't bother trying because it doesn't work. Let's look at last night's dirty dishes again. If you continue to ignore them, or add to them, eventually the kitchen will stink and the smell of your garbage will fill the air letting others know you have a bad habit and haven't cleaned up your mess.
Last night's dirty dishes are unfinished business. Bills, bad credit, outstanding apologies, unforgiveness, … It could be something as simple as a phone call you should have made or some area or item of procrastination. You can't know freedom in a new life if you're still carrying the residue from yesterday. Clean it up so you can have a fresh start to a brand new day, and a brand new life.
So true!! Powerful!!