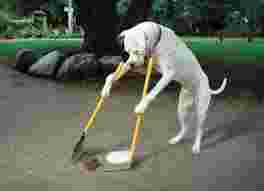 We talked about dirty dishes before. They're a fact of life. Even if you're a card-carrying citizen of the paper bag fast food generation, when you eat, no matter where or what you eat, there's clean up involved. If you don't wash the dishes, if you don't clean up your mess, anyone can look in your space and know just what you ate, where you ate, or where you got what you ate. Mess tells. Mess doesn't go away on its own; you must clean it up. If you don't wash the dinner dishes, they'll be right there waiting for you in the morning. If you're in a hurry, can't get to them now, going to get to them later, they'll be there waiting for you, only later, the task is even more ghastly and time consuming.
Life is the same way. I'm reminded of the man at the pool of Bethesda. When Jesus healed the man, he told him to take up his bed and walk. Why would Jesus tell the man to do that? He'd been lying there for 38 years, finally got his healing. Why not tell him to be careful since this was the first time he'd walked in 38 years, or be sure to go to physical therapy to strengthen his muscles? Instead, Jesus told him to pick up his mat and walk.
Let me offer this thought. Jesus wanted the man to clean up after himself; clean up the evidence and any residue of his unhealed existence. Can you imagine what it would look like if he'd just left his mat, blanket, etc. The testimony would have been about how he got up and left a mess instead of how he got up healed.
No one needs to know where you've been unless you tell them. Your testimony is your truth to tell, not a story others will cook up the way they want from the evidence you leave behind.
Your testimony is about your change, your new walk. Don't leave evidence of your former state so that people get caught up in the mess and miss the blessing. I could imagine the man walking away with the mat. Surely, he would toss it in the first dumpster he came upon. Surely, he would get a new one, not take home that old beat up thing that had been dragged to and fro for 38 years. Not only do you not want to leave evidence of your unhealed life around, but you want to have freshness around your new existence.
Clean up takes time, that's why we don't like to do it. There's no joy in it no matter how much you sing while you're doing it. There's nothing mystical about it.
Take up your bed and walk is analogous to dirty dishes, which is analogous to mistakes of the past. People should only know what you allow them to know by what you carefully decide to disclose, not from residue and evidence you carelessly leave around. People interpret through their personal grid system what they see, which may not be truth. For example, I said the man healed at the pool of Bethesda had a mat he was dragging to and fro for 38 years. That may not be true. He may have been given a new mat every eight months. The facts are hidden so I told the story my way to fit my purpose. That's what people will do with the loose ends of your stuff lying around. They'll fill in the blanks based on their own agenda. I think you know what I mean. Take up your bed and walk. Tell your story the way you want it to be known, not the way someone else puts the pieces together. Cleaning up your mess is controlling your future.
Very insightful!!