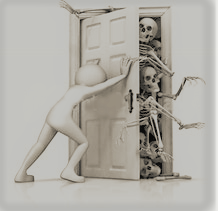 Proceed with caution on this one because it will surely challenge what you believe. Many would have no trouble interpreting this picture as the person trying to keep his/her skeletons from coming out of the closet. Perhaps you don't have as many as this person. Maybe you just have a couple that neatly fit into the closet and if no one comes along and opens the door, you're good. Generally speaking, if you stay beneath the radar, live a quiet life, not run for public office or pose a threat to anyone, chances are your skeletons will remain behind a closed door. The problem with that is, there's always that gang of thug demons (insecurity, jealousy, envy, competitiveness, boredom, self-righteous judgmentalists, thrill of the moment gossipers) who want to open the closet door.
Let me share this startling revelation. There's only ONE CLOSET. That's right. It isn't as we've been made to believe, that everyone has a closet. Not so. There's ONE CLOSET. One human race; one human family, connected, interconnected, interacting, and subject to the laws of the one undivided universe. One universe, open and free flowing. Karma, a universal law which lives in the free flow of the universe, doesn't have to look around or go from closet to closet to complete its cycle. Stay with me.
The bible says, "All have sinned …" We all agree we have sin (skeletons), but think deeper. With whom do you think we sin? Or, more simply, who do you think we sin with? We laugh with each other, love each other and sin with each other! We cannot sin alone. So, at the moment of transgression, exercise of poor judgment whether intentional or unintentional, (regardless of what the sin is), there are at least two skeletons in one common place.
Now, stretch the boundaries of your spiritual vision. One human race, living in one world, interacting with each other (good or bad), (negative attitudes, hatred, oppression, secret sins, crime, …) creating skeletons constantly. One world (small), one human race kicking it with each other. You may, if you'd like, imagine you have a corner in "the closet" but, make no mistake, there is only ONE closet. That's why it's so easy to see someone else's skeleton(s), AND, know this, others can see yours. OMG! Right?
Now, repeat this scripture:
"Above all, have [a]fervent and unfailing love for one another, because love covers a multitude of sins [it overlooks unkindness and unselfishly seeks the best for others]. 1 Peter 4:8 (Amplified Bible (AMP).
Key words: Love; Covers
Now look at the illustration again. Imagine love that compels you not to open the closet to reveal another's secrets or shortcomings, but to cover and protect; purposefully exchanging the weakness in character that opens the closet, for the strength of character it takes, for love's sake, to keep it closed. Just Thinking.