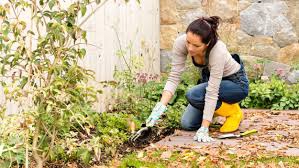 With your spiritual eye, look at your life as a garden. You have a garden even if you think you don't. There's something growing in the acreage of your life, be it a small backyard, a beautifully manicured, well planned landscape, an ill kept weeded patch of overgrown half brown dried up grass, or what looks like a waste land or landfill, it's your garden. Such as it is, it's yours. What's in your garden? Every day you make a decision as to what it will look like and you care for it accordingly. You decide what will grow. You're the one who plants the seeds in YOUR garden. No one else. Not the people next door, the government, and certainly not the devil. You have planted everything that has grown in your garden. Some seeds you remember; some you planted so long ago, you forgot you planted them. Some seeds you tossed aside unaware that your litter bug behavior was still an act of seed planting. Thoughts, attitudes, habits, … taken lightly or frivolously tossed aside, took root and now you see their fruit in your garden.
Some plants take longer to bloom then others. Some take only weeks to show through the soil, like marigolds and tulips. Others take years like the Chinese Bamboo, that grows underground five years developing a massive root system before exponentially growing above ground the fifth year. Long time, short time, know this, you are the blossom today of the seeds planted in your yesterdays or yesteryears. The good news is, tomorrow your garden will show forth the seeds you plant today.
That's an Ah! Ha!, an awakening thought. It explains a lot if you take time to think about it and reflect back a little bit. Caution: Don't spend too much time in reflection. The purpose is not to arouse regret or guilt, but to affirm the truth that we are the manifestation of our past decisions, (and even prayers), malicious or well-intended, "you reap what you sow."
Wait! There's GOOD NEWS! If you want a different garden, a different landscape for your life, you must plant new and different seeds. You must plant the seeds of the fruit of which you want to see. New garden, new seeds. Plan the landscape you want to see, then tend it accordingly. But what about the seeds already planted and roots already firmly in the ground of your soil? Good question. I'm glad you asked.
Plants, flowers, vines, of any kind will die if left unattended, without sunshine, water and fertilizer. Weeds will take over. You don't like the garden or any part of it; stop tending it. Stop watering it with your tears. Stop fertilizing it with thoughts and memories. You can't un-plant those seeds. What's done is done. It is what it was. Just make up your mind you're going to STOP its growth. Besides, digging takes the time and energy you need to tend your new garden. Just STOP the growth, let the old unwanted growth die:
S – Starve it. (Stop feeding it with your thoughts)
T – Thirst it. (Stop watering it with tears)
O – Oxygen off. (Stop giving life giving breath. Stop talking about it)
P – Prepare new ground (Stop being lazy. Till your soil.)
Now get a new vision. See the garden (the life) you want and plant seeds that will bloom with the landscape of the life you want. Plant new seeds and tend them. Give your attention to your new vision. You have the power to do it because power flows in the direction of your attention.
Anyone can redesign and replant their garden but not everyone will. It's hard work. It's expensive. Everything has a cost. Everything comes with a price. You can't get something for nothing. You must pay the price for the new garden, the new landscape of your life. The cost is high: time, effort and discipline. You must tend the garden every day. The highest premium is on the faith that you can do it. When faith says you can do it, then with your actions, you must do it.