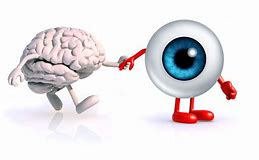 Have you ever said, "I'm glad no one can hear what I'm thinking"? OMG! What a disaster it would be, not just that your thoughts would become audible but to hear the thoughts of others as well. Talk about "wars and rumors of wars." Yikes. It's bad enough that others respond to what they think you're thinking. What if they could actually hear it?
Ok, so don't get too comfortable with the idea that your thoughts are hidden unless revealed through your speech. Forget the idea that your thoughts are private. Not so. Your thoughts are in plain sight. Your thoughts are seen. I didn't say your thoughts can be seen; I said, your thoughts ARE seen. Your actions reveal what you've been thinking. Your behavior and circumstances expose what you've been thinking. Don't hit Close or Delete just yet. Stay with me.
Everything visible began with a thought. Trackless rails, skyscrapers, computer chips, all began as a thought in someone's mind. The Wright Brothers thought about flying. Bill Gates thought about a computer. That's not so hard to comprehend. A thought, an idea comes to mind, stays with you for a while, a plan begins to develop, actions begin. The thought takes shape in the mind so vividly that it's a reality before it's tangible. Then, BAM! There it is. It's real. It's happening. Not by magic. Not in an instant, but in varying degrees of time. You can track the finished product back to the incubation of the thought.
Let's bring it closer. Dinner for example. You think of what you want for dinner, even how you want it served. You follow the recipe from either a book, in your head, or the drive thru. Dinner served. Everything begins with a thought. Eventually that thought becomes visible in action and result. You get the idea.
On personal, spiritual level. James Allen in his book, "As A Man Thinketh" says, thoughts crystalize into habits and habits solidify into circumstances. There's no specific measure of time from when thoughts emerge as circumstance. It could be a thought from last week, or one that has laid dormant for years, then found an egress. Have you ever said to yourself, "How did I get into this mess?" Or "How in the world did that happen? That's not me."
Allen goes on to say, beautiful thoughts of all kinds, pure, decisive, gentle, forgiving, loving, unselfish thoughts crystalize into habits of self-control, moral and ethical cleanliness, gracious kindness, selflessness, industry, etc., and solidify into circumstances of peace, success, plenty, freedom, abiding prosperity, …
Thought life is powerful. It really must be monitored. The Bible speaks a lot about controlling the thoughts and the condition of the mind. An angry thought can grow and take on a life of its own. Suddenly you find you have a monster you have to kill; and kill it you must. Monsters aren't cute little puppies, nor polite and never went to Sunday School. Excuse the harsh verbiage but you gotta kill 'em if you're going to move into a good life space. (Just to be clear. The monster is the thought, not a person.) Fret not. If you're a part of the human race, you've had a monster once or twice, maybe even now. Just get rid of it and move on.
Take your thought life back. There's nothing more powerful than a decision. Decide what you want your circumstance (any circumstance) to be. Then decide what thoughts remain. Decide what thoughts will be nurtured. It's easier to control a kingdom than it is to control yourself, but you can do it. It begins with what you allow yourself to think. Decide what you want to see in yourself and in your life and plant the seeds of those thoughts.
Just thinking.