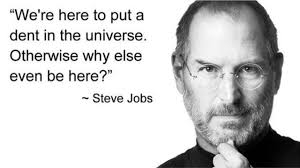 When Eleanor walked into a room, everyone got quiet; everyone stopped talking and looked at her. There was that freeze frame moment of silence and anticipation. What's she going to say? She was tall, thin, neither attractive or unattractive, but when she walked in, she owned the room. Sometimes she was only passing through and didn't connect with anyone, yet her presence demanded attention, even if only for a moment. What was it about her that said "pause" when you saw her coming? What was it about her that made you check for your own correctness if you were in a meeting with her? What was it about her that made you think twice before answering her question. She wasn't necessarily the one with the title, or authority, but she was undeniably the one with power and influence.
Eleanor walked with a purpose. Her whole aura had focus. Everything about her demeanor said:
· I have a purpose for being here.
· I have prepared with excellence. Don't waste my time.
Eleanor was organized, decisive and clearly thought driven. She was the "go to" person; the one to whom people looked for the nod of approval or correction.
When you're clear about who you are and your purpose, comfortable in your own skin – you walk with a purpose. Those around you find for themselves a sense of comfort and confidence in you, and situational well-being.
WHAT IS YOUR PURPOSE?
What are you living for? What are you adding to the universe, to society, to the community? Breathing is involuntary. If it were voluntary, what would be the purpose for which you would choose to breathe? You were born with gifts, talents, skills, . . . How are you using them to pour benefit into the lives of others?
Many people spend time trying to find happiness; their sweet spot in life, the "feel good." That's natural. Of course, it is a natural desire to be happy. The secret is, it's found in what you're able to give from that which was/is given to you. Who you are and what you have is a gift to humanity; a gift in the universe trying to find its place of egress. What you have, other's need. As you give, pour into the needs of others, others will pour into you.
You must have a purpose and get about the business of accomplishing it. Devote yourself to it. Make it the center of your thoughts. If you think you have no great purpose, then do well, with excellence, that which has been given you to do, no matter how insignificant you think it may be.
Spend time with yourself regularly. Sit with yourself quietly. Listen to the thoughts that speak from your heart. Spirit in your heart will tell you of the purpose that lies within. Thought linked to purpose is a creative force. Set a goal, blinders secure and with laser focus, relentlessly pursue it.