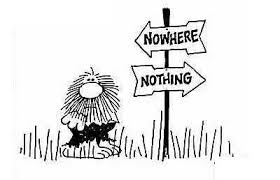 While this thought on Aimlessness can stand alone, it's Part 2 of a previous blogcast, "Purpose." Get ready for this one. This may not be you, but you'll recognize it because it's all around you. Be careful because things around you can be contagious.
Have you ever known someone who's just drifting through life; no direction; no goals? They seem to be going nowhere and totally unaware that there's any place in life to go. Aimlessness is so detrimental, I've compiled a list of 15 images and analogies:
Aimlessness is waking up in the morning saying, "Ok, let's see what the day brings."
Aimlessness is movement with no direction; movement without goal or purpose; no follow through
Aimlessness is eternal limbo
Aimlessness is like resting on a lifeboat, drifting on the water
Aimlessness is shooting all over the place hoping to hit the bullseye where there is no bullseye
Aimlessness is to have no yardstick for success or failure
Aimlessness is laziness
Aimlessness is complacency
Aimlessness is accidentally hitting any target or no target, and not caring either way
Aimlessness is never missing the mark because there is no mark to miss
Aimlessness is hitting something then trying to figure out what you hit and what to do with it
Aimlessness is having a legitimate dream without a clue about how to get there
Aimlessness is trying whatever seems like a good idea at the time
Aimlessness is living in your imaginations; perpetual chillin'
Aimlessness is wishing on a star, daydreaming and living in Disney like fantasies as though someday they'll come true
Even Dorothy, who woke up in Oz, had a purpose, to get back to Kansas.
Aimlessness is living in nothingness. A life of aimlessness is fertile ground for the roots of average to grow deep and mediocrity to become the norm. If you allow yourself to be lulled into satisfaction with the complacency of ordinariness, and content with the usual, your spirit will become lethargic and numb.
If you have no central, legitimate, meaningful purpose, something that holds your focus, that drives you, something to live for outside of yourself, you become filled with self pity, sink into petty worries and fear, make mountains out of molehills, complaining about things that don't matter and troubles that aren't your own, become critical and judgmental of others. Aimlessness is a vice.
The lifeblood of aimlessness and sure disappointment is that unholy trinity: doubt, fear of failure, and an unteachable spirit. To entertain either is to thwart yourself at every step. All strong thoughts cease when doubt and fear creep in. Put them out. Doubt and fear never accomplish anything and never will, so don't spend any precious time with them. Learn to see failure not as an end, but as one of the pathways to success. Make circumstances serve you. Set your focus and look neither to the right or the left.
The flipside of aimlessness is purpose, something that lives inside of you, that cannot rest until it finds its place to give life and betterment to others. Your purpose is that God breath in you that you are to breathe into others. Purpose serves as an anchor. When the storms of life are raging all around you (and they will), having a purpose, something meaningful outside of selfish, narcissism, me me me-ism, will keep you grounded.
Link your purpose to clear thinking and planning and there will be intelligent accomplishment, and the avoidance of repeated mistakes and misfortune.
Aim at something.
Just Thinking
Excellent! ??????
Thank you for these inspirational Messages.