Audio temporarily unavailable during equipment upgrade.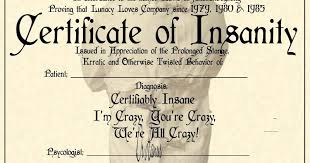 Go ahead. Download the cerificate and sign it now.
Don't wait 'til the end of the blog.
Just kidding.
Let's start with the definition of insanity that's been popularized in recent years. "Doing the same thing and expecting a different result." If you accept that as a working definition, then there's more insanity around than any of us would like to admit. Think for a minute. What's your crazy? What is it that you continue to do thinking that if you keep doing it, you'll get the result you want. Now think about how long you've been doing it. Before you dismiss this thought, hang on a minute. How long have you been telling someone the "right" way to live, or the "right" way to act and they're still doing their own thing? Doesn't mean what you're saying isn't "right," but it does strongly suggest you should try a different approach. Otherwise, that might qualify as an example of insanity.
It all starts somewhere way back in the past. Somehow it was decided how things should be done and it gets passed down generation after generation without re-examination. Times change, people change, circumstances change. Truth never changes, but, perhaps the way to go about imparting it needs to change. If it doesn't work now, maybe it never did. But it seems right, seems like it should work. Maybe, but to continue down the same road might qualify as another example of insanity.
Met a young man, distraught and deeply troubled because after much searching he can't find the woman of his dreams. He dismisses one after another complaining that "these women" out here today are nothing like women used to be. They don't do this, and they don't do that. There is much truth to his lament. Women have changed, but for the better. When the suggestion was offered that he might look in a different environment where the type of woman he's looking for might more readily be found, he bristled strongly, declaring a litany of things that all women should be, even siting fundamentalist interpretations of scripture. When asked how long he'd been looking in the same space, using the same criteria, he responded, "years." That behavior might qualify as an example of insanity. Hello! If something does't work, stop doing it! Change what you're doing.
There's a lady who continuously yells at her neighbors for their less than socially acceptable language and behavior. They ignore her. They keep doing what they're doing, living their lives the way they want without any response to the lady, and she keeps yelling. She's the one who gets all freaked out on a regular basis. Now, ask yourself, Who's insane; the unpleasant neighbors, who are happy as they are, or the ever frustrated, yelling, complaining lady? Maybe she should try a different approach.
Be willing to think about things again, look at it from another vantage point. You can be very right, and within your rights about what you want and what you think, but no one gets it but you, and nothing's changing --- Hmmm! insanity is in the area closer than you think.
So, what's your crazy? What do you continue to do, continue to demand, continue to expect, and the same thing happens? Hit your Reset button. Upgrade your intellectual software. Try a different approach. You might just get the result you're looking for. Just thinking.
That was excellent, and I do believe, we all have some crazy....LOL!