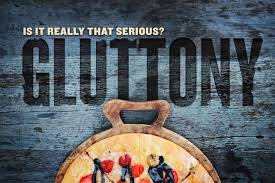 Ask anyone if they know themselves and they'll probably say they do. By a certain age we hope that's true. You may have a strong sense of yourself but you (your character) can only be known or self discovered through circumstance. To boast of noble character saying, "I would never do this, or I would never do that," might come from a place of arrogance because the wisdom in humility knows that given the right set of circumstances, you can't be sure. That's a good reason to hold onto the scriptures that say, "pray without ceasing" and "walk humbly before God."
Knowing yourself is not to be taken lightly. Daily routine, opinions, and habits say something about you, BUT, it's those unimagined tests that bring you to the defining moment, that reveals you to yourself.
Everyone is driven by an appetite unique to them. The Bible uses food as an example because it vividly makes the very strong point of caution. You need to have a baseline, a personal foundation, a personal code of ethics, or you'll be distracted by every shiny object that comes into the panorama of your space. Consider this:
1 When you sit to dine with a ruler,
note well what is before you,
2 and put a knife to your throat
if you are given to gluttony.
3 Do not crave his delicacies,
for that food is deceptive. – Proverbs 23:1-3
There's much packed into those few verses. Notice the caution about sitting at the table with a ruler, someone who has power over you. Gluttony is appetite, not just for food but for anything for which you're weak or crave. The verse suggests that the one who has power over you has what you want and if you're hungry, greedy, and undisciplined, you'll take what's in front of you, thoughtless of giving up your freedom, selling yourself into slavery. Think that's a little dramatic? Think again.
The second verse says, "put a knife to your throat if you're given to gluttony." Now, that's dramatic! Given to gluttony; you may as well end it all because you're as good as a dead man/woman if you're weak and powerless to your cravings and can't control your appetite (whatever it is). A dead man controls nothing.
DISCLAIMER: DON'T KILL YOURSELF - JUST
GET A GRIP ON YOURSELF.
Let's be absolutely clear about one thing. You do not have to accept every invitation that's extended. You know what you can handle. In compromising situations if you don't have a good sense of who you are and strength of character, pass on the invitation or you may make a poor choice. Remember, you're grown, so if you dine with the king, you're on your own. The table is set. When you take a seat and the food's in front of you, the only prayer you've got is to bless the food. Consider these thoughts:
· An invitation is not a subpoena. You don't have to accept it.
· If you accept, you choose to take a seat.
· To eat is up to you
· What and how much you eat is up to you
When you see clearly the circumstances before you, and look honestly at yourself and see the conflict with the Law upon which your being is established,
· Universal Wisdom will speak within
· Choices become clear as actual choices
You're not a helpless victim of circumstances, but until you gain control of your appetite you will always be banged around by the ebb and flow of external conditions and used by the kings and queens of the earth.
Here's a suggestion. Until you can control your appetite, just RSVP, "Can't make it."
Very good reading with strong helpful points. Thanks and Blessings??