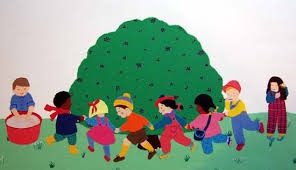 There's a little song we learned (back in the day) before kindergarten, "Here We Go 'Round the Mulberry Bush." Not sure if the little ones sing that anymore. The song has seven verses and each one ended with a task done "so early in the morning" for each day of the week. It was a nice, happy song, but, seven verses! OMG! Sometimes it seemed like the song would never end, especially if the song leader would start it over and over again. I'd never seen a Mulberry bush and I was sure, if I were to see one, I wouldn't want to keep going around it, doing the same thing each day as prescribed in the song. Hmmm, maybe they oughta ban that little song?????????? (LOL!)
Fast forward to adult life. Ever feel like you're going around and around, doing the same thing day in and day out? Seven days a week, the invisible Mulberry bush now marks the center of the rut you're in – going 'round and 'round. Maybe tasks change a little, but essentially you just exchange one rut for another.
While you go 'round and 'round, time moves forward; but you don't. A rut has a hypnotic effect. One night you go to sleep 40 and wake up 60 and wonder where the time went. Yes! Time passes that quickly.
Depending upon your age, the Mulberry bush rut is a bit different. If you're under 40, building your life, family, and career, a "rut" could be necessary and purposeful. Over 40, and, certainly over 50, a rut (like when they sang the song that seemed never to end) is a dangerous thing. Depression, boredom, despondency, hopelessness, mistakes, bad decisions, thinking it's too late, … all kinds of negativity is found in a rut.
Here's the "BUT." Although you can "fall into a rut" or "find yourself in a rut," you can change it the moment you decide to do it, because you are the maker of your own destiny. OK, I hope I don't lose you on this. Very few embrace the last two lines of William Ernest Henley's "Invictus"
"I am the master of my fate,
I am the captain of my soul."
It isn't a palatable thought in most circles to accept that man is the master of thought, the molder of character, and the maker and shaper of condition, environment, and destiny. (James Allen). That's just too much work. Some would rather whine and complain or say a prayer and wait on the Lord. If that's your theology and it works for you, fine. Just don't let it be an excuse to not do what you can do.
You don't need Divine intervention to get out of a rut. You just need desire and a plan, Not a big plan. Start small. Go to a movie a couple of times a month. (not Netflix or DVD.) Commit to a "girl's night out "or "a guy's night out." Take a dance class, read a book, write a book, write a blog, get the degree you've always wanted. Take control of your life and do something with the life you've got.
If you put it out there in the Universe that you want to enrich your life, and you're sincere about it, watch ideas and opportunities flood your way. God doesn't care if you choose to live your life out going 'round the Mulberry bush. He loves you no matter what you decide. But if you care, choose ye this day to get out of your rut, what you're going to do about it, then do it. Just Thinking
This is were prayer comes in some folks need help to move forward with life and life situations