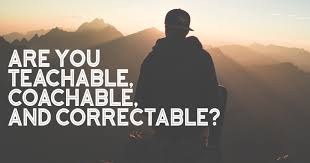 "Reprove not a scorner, lest he hate thee: rebuke a wise person, and he will love thee. Give instruction to a wise person, and he/she will be yet wiser: teach a just person, and he/she will increase in learning"
Step 1, 2, 3, 4ever, and In Between
On every step, and every next step, on every level, and every level from now until forever, you must have a beginner's attitude. To be your best self in pursuit of excellence the secret is a teachable spirit. Always remain teachable with commitment and the willingness to do what it takes. The seeds of sacrifice (time, commitment, etc.) yield a harvest of excellence, which in turn affords recognition and respect.
We come gifted, talented and anointed, but not ready-made. We need to be developed, talents honed, and perfected. Being teachable means to be open and ready for the process, the preparation for perfection.
A teachable spirit is the most important principle of success in life, relationships, parenting, career mobility, ministry, … If you've willingly reached a place where you can or will no longer learn anything, you're voluntarily unnecessary, and a non-contributory to progress and forward movement around you.
In the 50s, 60s, and 70s, guys (mostly) would sing on the corners and in the subways of major cities; beautiful voices, perfect harmony, yet they never made it past the street corners. Other talented individuals, even less talented, from the same neighborhoods made it big, got recording contracts, appeared in movies, etc. Was it luck? Was it an unseen genie who granted their wish, or a coincidence lottery they won? When you listen to their stories, there's a common thread throughout the ones who "made it." They listened to the advice of credible people. They listened to wisdom. They followed directions. They were open to instruction even when they didn't want it. Devoid of a teachable spirit, you'll never fulfill your God-given abilities and potential or enjoy your God-given gifts and the fruits they yield.
There are exceptionally gifted people; business people, public servants, musicians, singers, writers, preachers, artists, dancers, … whose gifts cannot be denied but talent would be so much greater if they'd accept instruction and direction from others who have been there/done that, instead, preferring to "do what comes naturally."
A teachable spirit is something that manifests its presence or its absence. In other words, if you're unteachable, others know it:
The person facing retirement and realizes their future holds no financial security because they didn't take investment advice in their youth
The person who can't balance a check book
The one with the credit score equal to their body weight because they refuse to invest the time in understanding how money works.
The one whose brilliance is obvious to everyone but their career plateaus because they refuse mentorship; because they know it all.
A person with a teachable spirit is receptive to wise counsel without being defensive or feeling belittled. A teachable spirit is a thirsty spirit; it desires to learn more and finds opportunities in every situation. They may be asked to do something others would feel is beneath them, and may even feel is beneath their skill set or position (a menial task, run an errand, get the coffee, be involved in something that isn't their passion, …). The person with the teachable spirit doesn't define themselves by what they're asked to do. They define themselves by how they see themselves and where they're going. The not so lofty steps along the way are opportunities to learn and take from the experience that which will give what's needed for the future.
A person with a teachable spirit doesn't see the now as anything more than the purposeful experience or necessary pathway to an expected end. The Universal Divine Intelligence can pour into a teachable spirit, design experiences for growth knowing the result is reflective.
The price of being your best self is learning without limits. Invest in your excellence. Just Thinking.